Contact Us!
If you wish to speak to someone, please fill out the contact form with a suitable time for one of our staff to call you back and answer your question.
Battery Charger C3: 6-12V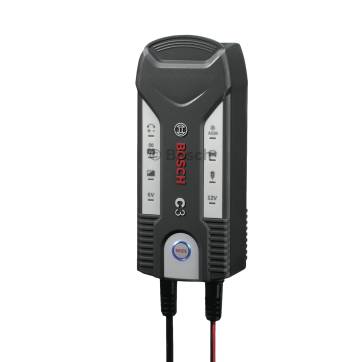 * Product may vary slightly
Battery Charger C3: 6-12V
Product No. 0 189 999 03M
Code : N/A
---
Handy, practical and lightweight
The smart 0.8 amp 6V and 3.8 amp 12V battery charger can save you money and benefit the environment by maintaining the battery and avoiding premature battery failure. The charger features 4 charging modes aimed at battery maintenance, including; pulse charging, for recovering a battery from a short term deep discharge and trickle charging for maintaining the battery in seasonally used vehicles.
Battery Types: Lead-acid, AGM, WET, GEL and open VRLA batteries.
Battery Capacities: 6V: 1.2Ah-14Ah and 12V: 14Ah-120Ah
Battery Applications: Passenger cars, Classic cars, Motorcycles, Boats, Jet Skis.
Certified to Australian electrical safety standards.
Recommended Products